Whether you're on the court or out for lunch, looking and feeling your best is a must. Your choice of activewear plays a huge role in that. Choosing the most flattering, comfortable, and supportive attire can make all the difference.
If you're looking for tennis wear that everybody will love, you've come to the right place. The NikeCourt Range is serving up some serious looks wherever you wear them.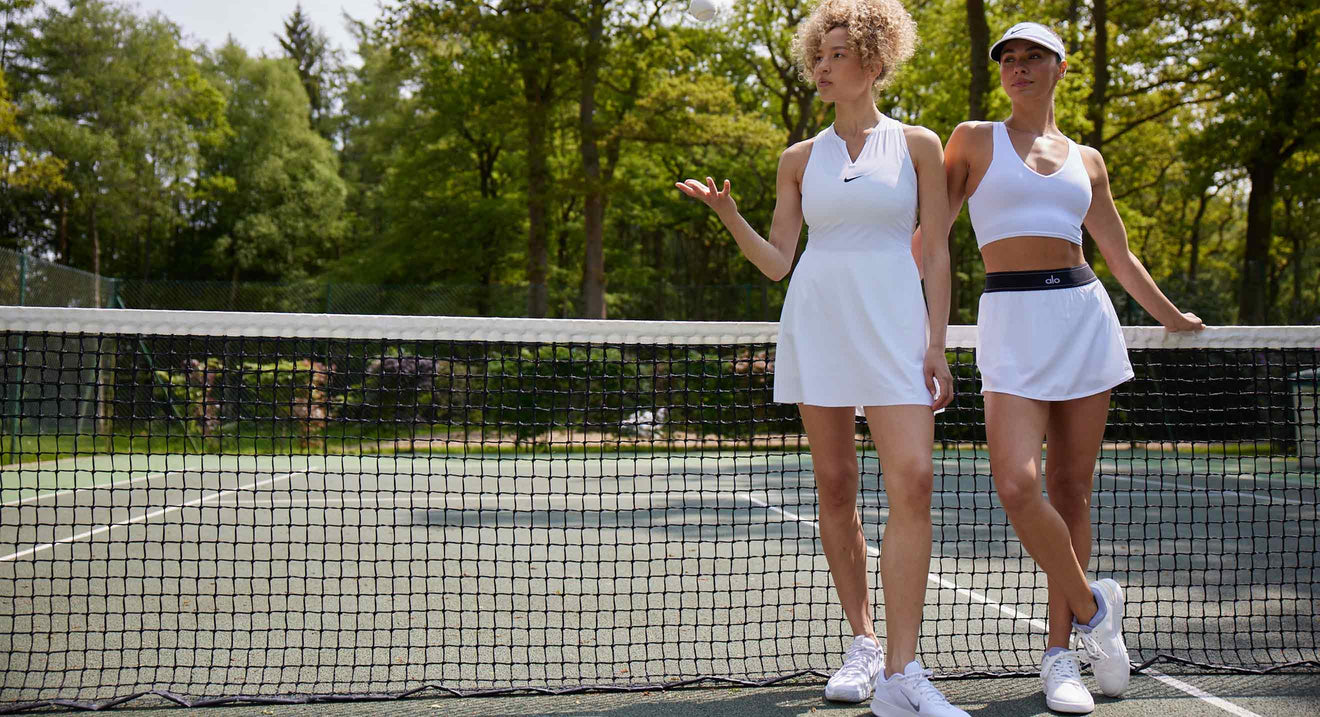 Introducing The NikeCourt Range
Combining mind-blowing performance and an original look, the NikeCourt tennis range is everything you've been waiting for. The unique collection has everything from shoes to skirts, skorts, shorts and dresses… But we'll get to that shortly! No matter what you're looking for when it comes to sportswear, you're sure to find everything that you need here.
Nike Women's Tennis Shoes
Searching for tennis shoes that are comfortable, versatile, and affordable? Nike is the answer. Known for its high quality, the brand has come out with a variety of stellar tennis shoes that tick every box. In this guide, we will take a look at everything you need to know.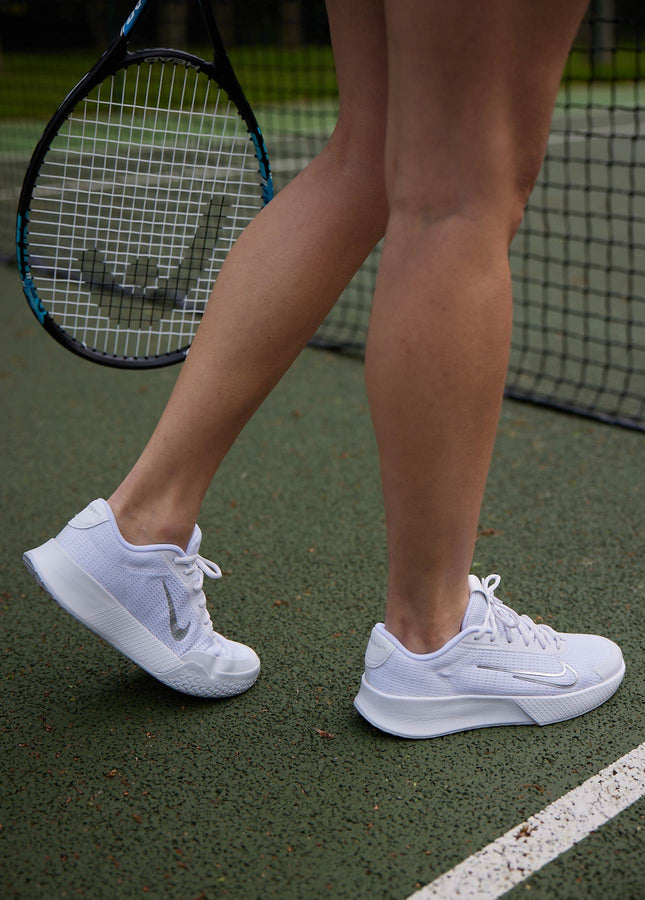 Why Should You Wear Tennis Shoes?
Before we dive into the new collection of Nike tennis shoes, let's talk about why you should be wearing them. Here are some of our core reasons for investing in your footwear.
Proper Footwear Power
Tennis shoes provide essential support and protection during dynamic movements. Nike Women's Tennis Shoes are designed specifically for tennis, offering features that enhance performance and prevent injuries.
Enhanced Performance, Ace Results
Nike Women's Tennis Shoes feature cutting-edge technology, providing stability, support, and excellent traction on various court surfaces. Move with confidence and agility!
Comfort
Nike prioritises comfort, using advanced materials and cushioning technologies in their Women's Tennis Shoes. Enjoy a snug, supportive fit and say goodbye to blisters.
Beyond the Court
Nike Women's Tennis Shoes effortlessly transition from the court to the street. Combine them with your casual outfits and turn heads wherever you go.
What to Look for in a Good Tennis Shoe
If you're thinking of investing in a decent pair of Nike tennis shoes, you're going to want to know what to look for. Here's a quick breakdown of what you need:
Durability: When buying tennis shoes, you need to make sure that they are durable. Whether you're on or off the court, you need footwear that stands the test of time. Be sure to research what materials are used in the manufacturing process and how well the shoes are made.
Flexibility: You don't want anything to ruin your chances when you're playing tennis. The tennis shoes you choose should give your feet the flexibility you need to move from side to side quickly.
Support: When you're moving swiftly, you need all the support you can get. Luckily, the Nike tennis shoe collection has all the sturdiness you would expect from the leading sports brand.
The Top Nike Tennis Shoes for Women
Not sure which Nike tennis shoes to pick? We've got you covered. Here are the top picks that are certain to turn heads for all the right reasons.
Next up, the

NikeCourt Vapor Lite 2

is a top-tier tennis shoe specifically made for women seeking lightweight performance on the court. Its sleek and streamlined design offers a perfect blend of style and functionality. The shoe features a breathable upper that keeps your feet cool and comfortable during intense matches.

The responsive cushioning and low-profile midsole provide excellent court feel and responsiveness, allowing for quick and agile movements.With its emphasis on speed, comfort, and durability, the NikeCourt Vapor Lite 2 is a fantastic choice for female tennis players looking to up their game.

Key Features:
Designed for wear on hard court surfaces
Full-length foot frame for stability
Extra-durable mesh upper
Plush 2-level foam cushioning