Until now, the words 'Nike' and 'yoga' were scarcely heard in the same breath. While the world's #1 sportswear brand is a staple in most sports, it's only recently that there's been a shift into the yoga-sphere.
Nike spotted a gap, addressing what it perceives as the problem that yoga has gained a reputation of being exclusive, for people who have the time, money and natural ability to enjoy yoga - 'for yogis'.
It launched Nike Yoga to 'democratise yoga to serve the yogi in every athlete'. As well as its focus on inclusive yoga, Nike is focussing on showing how yoga makes you a better athlete, with storytelling of how its diverse roster of athletes use yoga as part of their training.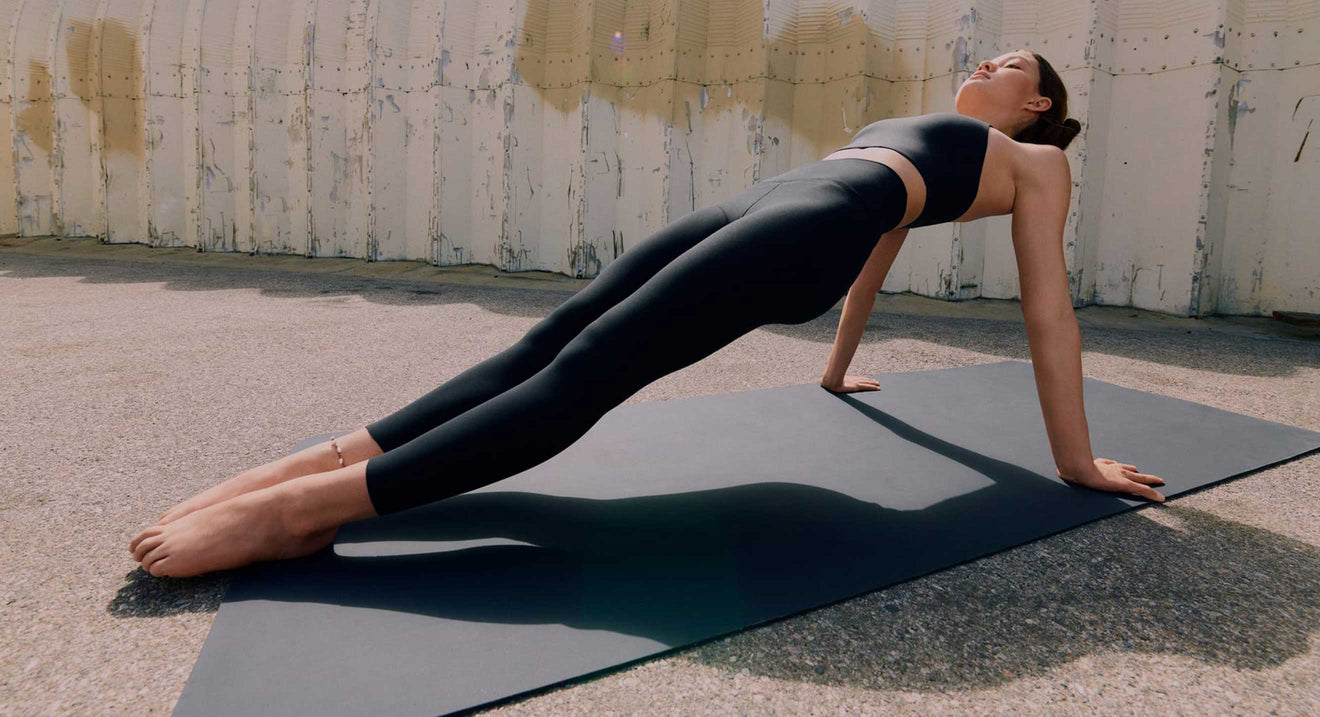 The collection's message is clear: "We believe in the power of yoga to create unity, build inner strength and unleash greatness. Whoever you are, whatever you're striving for, this is your space to make yoga yours." Bold and appealing.
So, if you're searching for your next piece of yoga gear, should you give this brand new range a whirl? You've come to the right place. Before you start shopping, read our in-depth Nike Yoga review and get all the facts. Here's everything you need to know about the range.
Nike Women's Yoga Collection
The search for the perfect yoga gear is life-long. When you start your yoga journey, finding the right products helps you to practise confidently wherever you are. As part of the new range, there's a rainbow-variety of choices available.
Nike Infinalon: The Nike Yoga Fabric
Yogis know one fundamental truth: comfort is everything. When you're mid-session, the last thing you want is to be distracted by the type of clothes that you're wearing.
Fortunately, Nike wants to give you 'a full sensory yoga experience'. The collection is centred around the brand new Nike Infinalon material, at once infinitely comfortable and incredibly stretchy.
Made from uniform threads, you can expect zero distractions when you move from pose to pose effortlessly. While you might think that soft is a synonym for weak, think again. The Infinalon material is strong at every feat. It's thinner than elastane but boasts twice the strength.
As if that weren't enough, this unique design is the ideal way to keep yourself cool. The style of the knit allows the fabric to be breathable. As you engage in your yoga sessions, you can be sure that you won't overheat or become uncomfortable. Put simply, it's bliss.
Nike Yoga Leggings
First things first, let's kick things off with a look at the Nike yoga leggings. The new selection features a variety of options that may work for you. Of course, when you're investing in yoga leggings, you need to be 100% certain that you will get the support you need. Let's take a look at some of the best choices available in the range.
The Nike Yoga women's seamless ⅞ leggings are a classic choice. Coming to just above the ankle, these leggings offer a snug fit and a slick design. The back, waist and sides of the leggings offer a different knit of material, meaning that they are more breathable.
Whenever you're in class, you can be certain that you will stay cool and collected. What's more, the material feels smooth and soft against your skin, offering you supreme comfort.
Next up, Nike Yoga Luxe leggings combine style and functionality in one sleek package. The high-waisted design of these leggings is popular with yogis for all the right reasons. You can bend, flex and move without any obstacles. It doesn't end there.
The Infinalon fabric is at once stretchy and soft, allowing you to make the most of your session. Featuring Dri-FIT Technology, you can also be confident that you will stay sweat-free throughout the entirety of your workout. Available in a range of colours, these are a stunning pair of stylish yet high performance yoga leggings.
Made from recycled materials, there's so much to love about the Nike One Luxe yoga leggings. This pair sports silky-soft fabric that feels like a second skin. You might be mistaken for forgetting that you're wearing these beauties.
With a contoured waistband and seamless sides, the leggings help you look your best while you do your best. Aside from that, they also feature the excellent Dri-FIT Technology to keep you dry and cool.
Nike Bodysuit
Featuring a compressive design and the signature fabric, the Nike Yoga Luxe women's Infinalon Jumpsuit helps you to simplify your sportswear. The all-in-one design of the piece means that you get everything you need without any barriers.
The super-soft feel of the material allows you the highest level of comfort from the moment you slip it on. You also get the Dri-FIT Technology here, meaning you stay dry and cool. Naturally, for this style of piece, the bodysuit has a tight-fit, compression design, supporting your every move.
The Nike Yoga Collection Verdict
The new Nike Yoga collection ticks all the boxes. The price points are accessible and it is extremely versatile, equally comfortable in a training session as a yoga class. Regardless of your personal style or the type of practice you engage in, you're certain to find a piece for you.
We've reviewed hundreds of different fabrics, but the new Infinalon used across the collection really does stand out, with its combination of softness, strength and ability to keep you feeling cool during your sessions.
Whether you want compression tops, loose-fitting gear, or an all-in-one, there's something for you from Nike Yoga. Take a look for yourself now.
Shop our edit of Nike Yoga Women's