Sure, the gym is no catwalk… but that doesn't mean that you can't look good while you sweat. Finding durable leggings that are at once practical and stylish is a top priority.
But with so many styles and brands out there, where should you start? We have the answer. If you've not heard of 7/8 workout leggings yet, you're in for a treat. Here's what you need to know.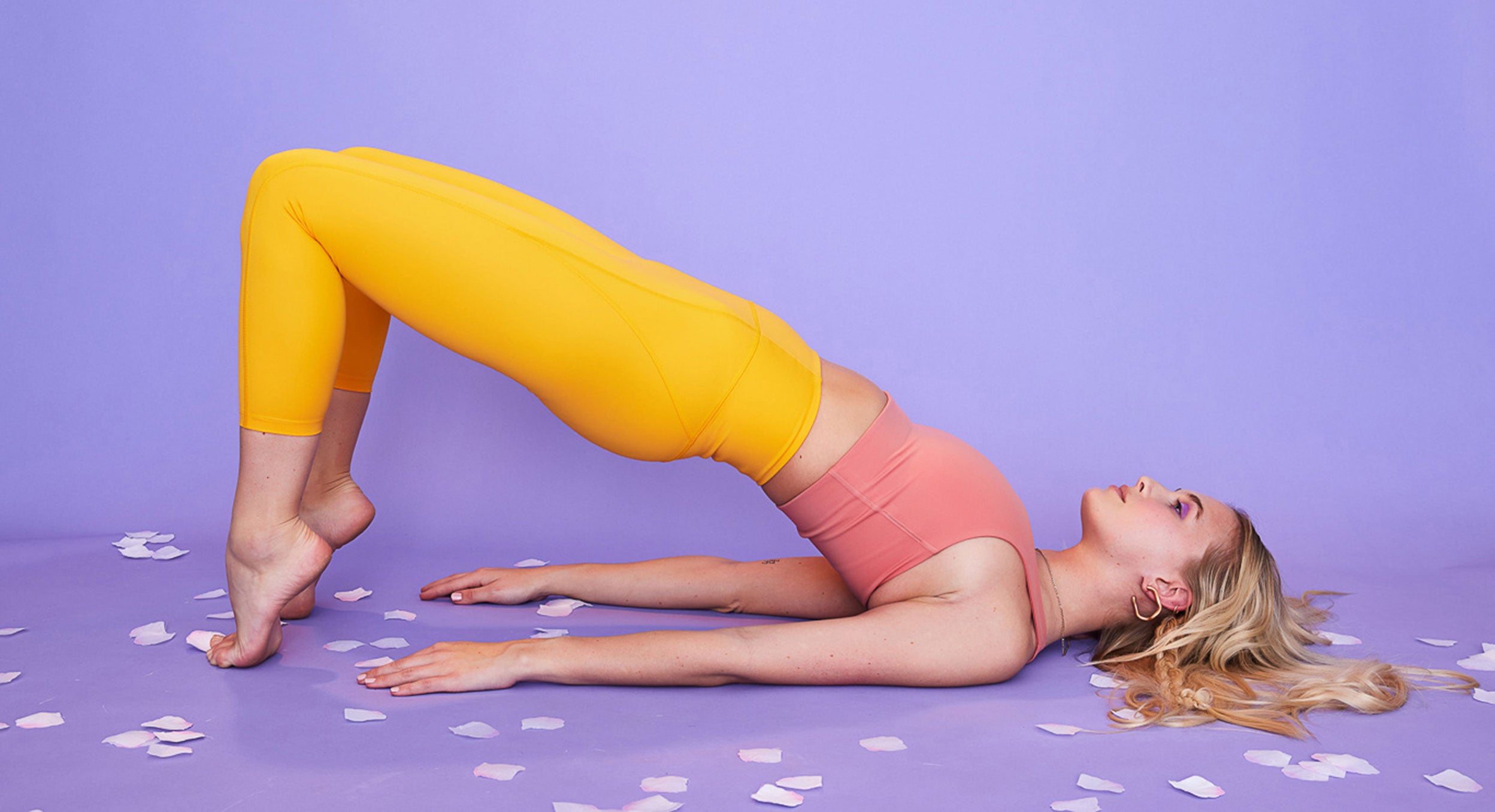 What are 7/8 leggings?
Before we go any further, let's deal with the elephant in the room: What are 7/8 leggings anyway? The clue here is in the name - 7/8 length leggings.
7/8 leggings or 7/8 tights have an inseam which is 1/8th shorter than a full-length style. While they are not as short as cropped leggings, they typically rest higher on the leg than an average pair of sports leggings.
Most leading sports companies, from mainstream brands like Adidas to niche retailers such as Alo Yoga, offer 7/8 leggings. It is worth noting that some brands, such as Beyond Yoga and Onzie, call their version Midi leggings, but the same principle applies.
The fashion-forward style of these leggings offer a sleek silhouette to those who choose to wear them. They neither cut your legs at a random point nor drown you in fabric, which is why, for many, they are the perfect fit.
Discover our range of 7/8 leggings >
7/8 leggings vs. Capri leggings
If you're still not sure about the 7/8 leggings meaning, let's take a deep dive. For starters, what's the difference between 7/8 leggings and capri leggings? Let's start with the basics. You may already be familiar with capri sports leggings.
These are sometimes referred to as 'cropped leggings', 'long shorts' or, among pro gym-goers, as simply 'capris'. Regardless of their name, these are leggings that stop just below your knees, on your shins.
There are many advantages to capri leggings; they allow you to move freely, look attractive, and are ideal during the warmer summer months. When it comes to comfort, freedom and flexibility, you honestly can't go wrong with these leggings.
On the other hand, 7/8 gym leggings are longer than capris, and cut your leg just above your ankles. Combining both fashion and functionality, these leggings are a breath of fresh air.
Think of them as the ideal happy-medium for people who don't want a full-length style but find capri leggings too short for them.
3/4 vs 7/8 leggings
So what's the deal with 3/4 leggings you may ask? Well, it's actually referring to capri or cropped leggings. The fraction 3/4 is the same as 6/8, which is the standard measurement for capri leggings.
How long are 7/8 leggings?
As we have already covered, 7/8 leggings are 1/8th shorter than the standard full-length style. However, since style lengths vary from brand-to-brand, that means not all 7/8 leggings are created equal. The length of the leggings will depend on each company.
Research is key here! Before you choose the ideal pair of leggings for your workout, you should read the full product description online. You're looking for the leg length. That way, you can determine how the fit will suit your individual body and height.
Whether you should opt for 7/8 or full length leggings depends on your height, activity and ultimately, personal preference. For example, you may opt for a pair of 7/8 length leggings during a gym workout but prefer full length leggings during yoga.
Shorter people may want to opt for a brand that typically has a short full-length style. For instance, Alo Yoga's 7/8 leggings have a 24" inseam, Girlfriend Collective 7/8 leggings have a 23 3/4" inseam, while the inseam on Varley's 7/8 leggings is 25".
Why should you try 7/8 leggings?
The 7/8 leggings style is not merely a fashion statement—it's an optical illusion. If you're looking for a way to elongate your stature and give the illusion of more height, these beauties are your secret weapon.
By exposing each ankle and a little of the lower leg, the leggings make your legs appear both longer and leaner than they would otherwise look.
However, it's important to remember that 7/8 leggings are not simply for shorter individuals. Everyone out there can benefit from their unique design style. It doesn't matter what height you happen to be, the leggings will flatter you while accentuating your legs.
On a functional level, the 7/8 leggings style is a real winner too. While longer styles can hinder workouts for some people, these allow fitness lovers total freedom.
For shorter people, that means no more tripping over your leggings or having to roll them up. Simple.
How to wear 7/8 leggings like a pro
Next, let's delve into how you can style these leggings. Since the 7/8 leggings will highlight your leg length, you may want to take things a step further. Opting for a high rise style will further extend the appearance of your figure and lower body. Give it a go.
Completing your gym outfit could not be easier. These leggings work well when paired with a matching crop top to create an effortlessly stylish aesthetic. It doesn't end there.
Get creative with your look. You can equally wear the leggings alongside a sports tee or tank top, depending on your taste. When you have invested in a stunning pair of 7/8 leggings, you should take a little time to experiment.
Try out a few different looks and outfits until you find the one that suits you. As the leggings are so versatile, you should have no problem.
Conclusion
Finding the right sports gear for your workout needn't be a chore. Now that you've got the inside scoop on what 7/8 leggings are and why you should try them, why not start searching for your perfect pair?
Browse online today and see what you can find. Since there's a broad variety of options out there, you might find yourself spoilt for choice.
The Best Selling 7/8 Leggings: