On has made a big splash in its relatively short existence, and now has the accolade of being the fastest growing running shoe brand in the world. Founded in 2010 by a three-time world duathalon champion and multiple Ironman winner Oliver Bernhard, together with his friends David Allemann and Casper Coppetti, the vision from the off was to come up with a fast and truly revolutionary running shoe.
Whilst that term gets bandied around too much, in On's case you just have to look at the Cloud or Cloudflow to realise that these On Running shoes are unlike any other running shoes on the market. They set out to solve the two perennial problems in distance running shoes: of combining a cushioned, soft landing with a firm, responsive take-off; and a highly cushioned shoe that is also extremely lightweight. Plenty of shoes on the market are good at one or the other, but not both.
Distance shoes tend to be either fast, responsive and lightweight; or comfortable, cushioned and heavier. On has come up with a shoe design that genuinely delivers on both fronts, built around two main innovations. Let's dive in to our On Running shoes review.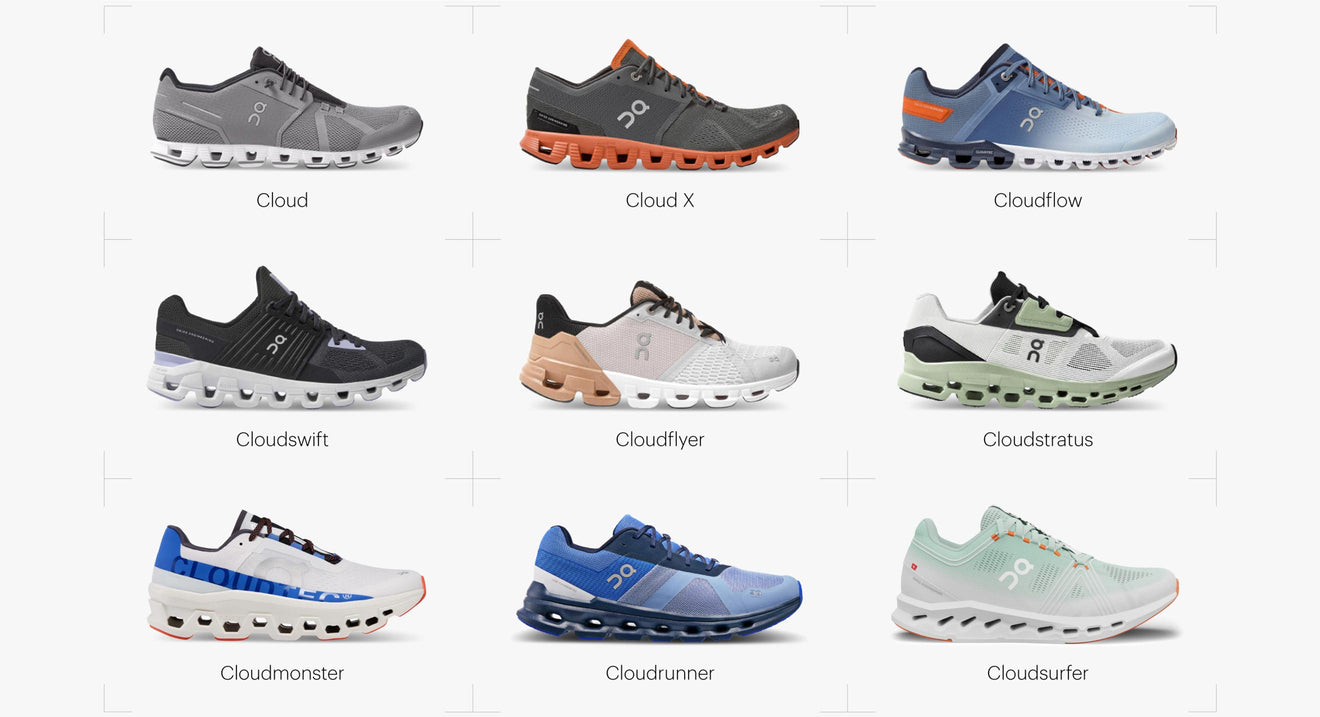 Clouds
The most visually distinctive feature of any On shoe are the hollow little 'clouds' or pods that run the length of the sole, adding cushioning and dispersing pressure, but also because they move laterally as well as vertically, they propel you forward and transition quickly. The video below illustrates this; the Clouds disappear on landing as they cushion the stride, but quickly pop back to drive your push-off. This unique feel to the On running shoes is apparent from the first time you put them on.
There is a central channel in the middle of the On shoes which allows the individual cloud components to move separately, providing a natural range of motion and best responding to the individual runner's gait. The CloudTec® sole in all On shoes is made from 'Zero-Gravity' foam, a signature EVA compound that is superlight, flexible and responsive.
Speedboard
These pods are combined with a central "Speedboard" running down the centre of the sole unit. This is a responsive, semi-stiff board made of a matrix weave of plastic, that promotes the natural rolling process in a stride, adding rigidity, and thereby helping energy transfer and delivering more explosive toe-offs. If the sole were allowed to fully flex, more potential energy would be lost.
Nailing cushioning and responsiveness is the holy grail of a running shoe, and On really has delivered something special through some very clever Swiss engineering. When you head out on your first run you will notice three things, how ridiculously light they feel, how soft the landing is and the fact that you are lifting your knees higher than usual.
Taken together these things equate to more speed. Each of the Cloud, Cloud X and Cloudflow weigh around 220-230g for a men's UK size 8, which is circa 100g lighter than shoes such as the adidas Ultra Boost (310g) or ASICS Kayano 25 (336g). To put that in context, several studies* have shown that an extra 100g per shoe increases times by c.1.1% over 3000m. Apply that +1% to a marathon or longer distance and you're talking about a lot of time.
It says something that some of the leading triathlon and Iron Man athletes of all time, the likes of Tim Don and Javier Gomez, train and complete in the same On Cloudflow shoes.
The On Upper
Whilst the key innovation in On running shoes is in the CloudTec sole, the seamless uppers also play an important role, continuing the trick of balancing comfort with ultra light weight. The uppers hardly add any weight to the shoe, but the mesh is extremely strong and reinforced with taping in key locations to provide a secure, supported feel. On Running trainers are extremely breathable, and the mesh is springy enough to allow your foot to move adequately through the stride.