Saving the world doesn't happen in one move—it's about all of the small things that we do each day. Both consumers and companies need to change production and consumption patterns in a more climate friendly direction.
According to an Ipsos survey across 28 countries, 69% of adults have made changes to their behaviour out of concern for climate change, yet only 28% have made changes to the clothes they buy.
Choosing to invest in sustainable clothing and products can make a material impact on the planet, and brands as influential as Nike are critical to changing consumer behaviour for the better. So, how sustainable is Nike and should you buy its products? Here's what you need to know.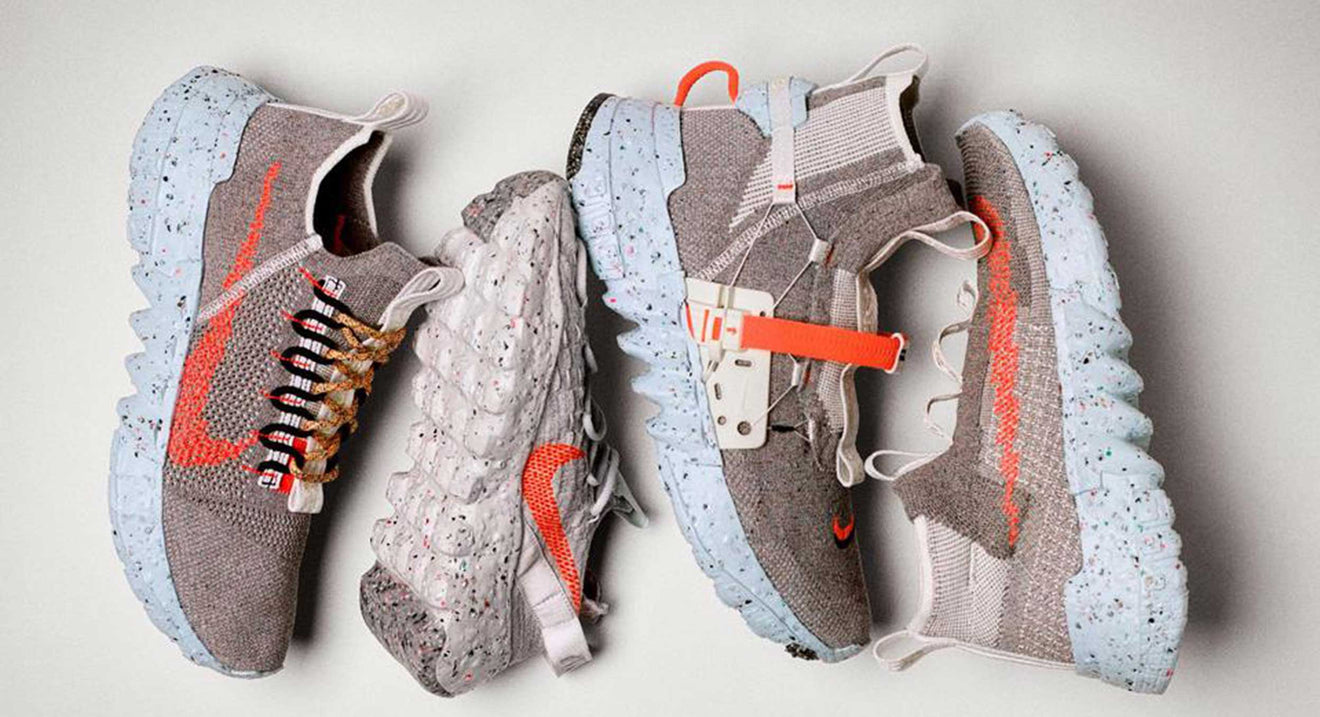 NIKE'S SUSTAINABILITY VISION
Looking after the planet has never been more important, as we battle to limit the increase in global temperature to less than 2°C above pre-industrial levels. But Nike is not suddenly jumping on the sustainability bandwagon, it has been on a 25 year journey to transform its business.
Since 2019 with the launch of 'Move to Zero', Nike has clearly set out its sustainability vision, with goals that the brand will aim to reach by 2050. These can be broken down into the following categories:
Nike aims to reduce its greenhouse gas (GHG) emissions from its owned or operated facilities by 70%. The plan is to use 100% renewable electricity and fleet electrification to achieve this goal.
Additionally, the aim for GHG emissions from core suppliers and transportation is to keep them below 2020 levels regardless of business growth. This will be achieved through the use of renewable energy, energy efficiency and alternative fuels.
Additionally, by increasing the use of environmentally preferred materials to 50% of all key materials, the brand will aim to reduce a massive 0.5 million tons of GHG emissions.
Nike has pledged to reduce waste by 10% per unit throughout its manufacturing, distribution, headquarters, and packaging systems. This will be achieved through improved design and operational efficiency.
What's more, 100% of the waste will be diverted from landfills with at least 80% of this being recycled back into the manufacturing process. Plus, the amount of finished product waste that is refurbished, recycled, or donated will increase ten-fold.
Water is a key element when it comes to manufacturing. The brand will aim for a 25% reduction in freshwater usage per kg in textile dyeing and finishing.
Aside from that, Nike plans to launch a series of watershed products to provide water to ecosystems and communities that need it the most. According to Nike's Sustainability Vision, the brand will restore 13 billion litres of water by the year 2050.
Harmful chemicals used in apparel and footwear manufacturing can damage ecosystems. That's why Nike plans to adopt clean chemistry alternatives for its 10 priority chemistries across the supply chain. Watch this space.
NIKE MOVE TO ZERO
One of the brand's boldest initiatives is Nike Move to Zero. That's the brand's journey towards zero carbon and zero waste to help protect the future of sport. To achieve this sustainable dream, the company has put a bunch of things in motion. Through innovation and new materials, the company is making big waves.
Nike Air soles have changed over the years. Since 2008, these have been composed of at least 50% recycled manufacturing waste. Fast forward to 2020, and all of Nike's Air MI facilities in North America are now powered by 100% renewable wind energy. The well-loved products are not only timeless, but better for the environment.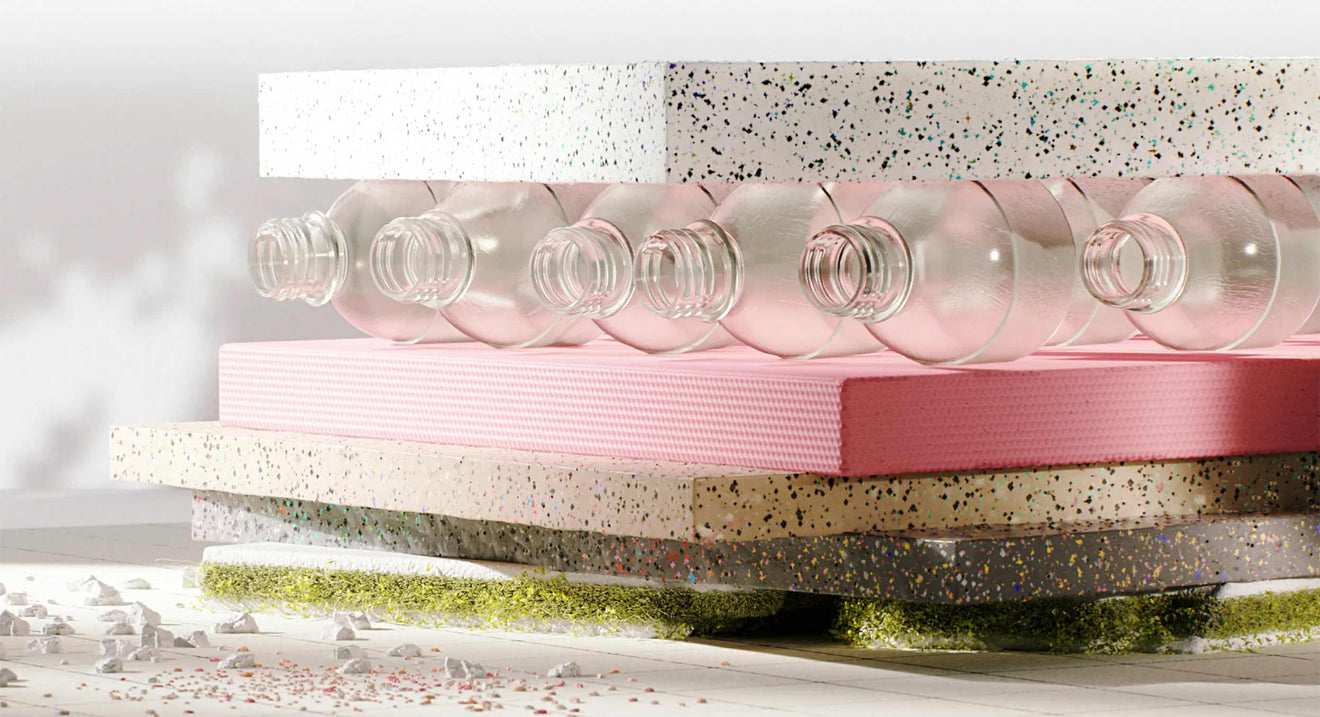 We all know that animal products, such as leather, are harmful to the planet. That's where Nike Flyleather comes into play. The alternative looks, feels, and smells like natural leather, but is made by binding at least 50% recycled leather fibres with synthetic fibres. The process means less waste and a lower impact on the planet.
All of the cotton used in the Nike product line is now certified organic, recycled, or Better Cotton sourced via the Better Cotton Initiative (BCI). What's more, the organic cotton that Nike uses is grown without fossil fuel-derived pesticides or synthetic fertilisers. The brand recycles more than 689 metric tons of cotton each year.
Waste not, want not. Nike uses increasing percentages of recycled polyester, which is made from plastic bottles. This unique process involved cleaning all of the bottles, shredding them into flakes, converting them into pellets, and using that to create high quality yarn. Using recycled polyester lowers carbon emissions by roughly 30% overall.
It doesn't end there. Nike also uses recycled nylon, which is sourced from a range of materials such as fishing nets and carpet. The process includes cleaning the nylon, sorting it and converting it into flakes, and then using either a chemical or mechanical recycling process. This approach reduces carbon emissions by up to 50%.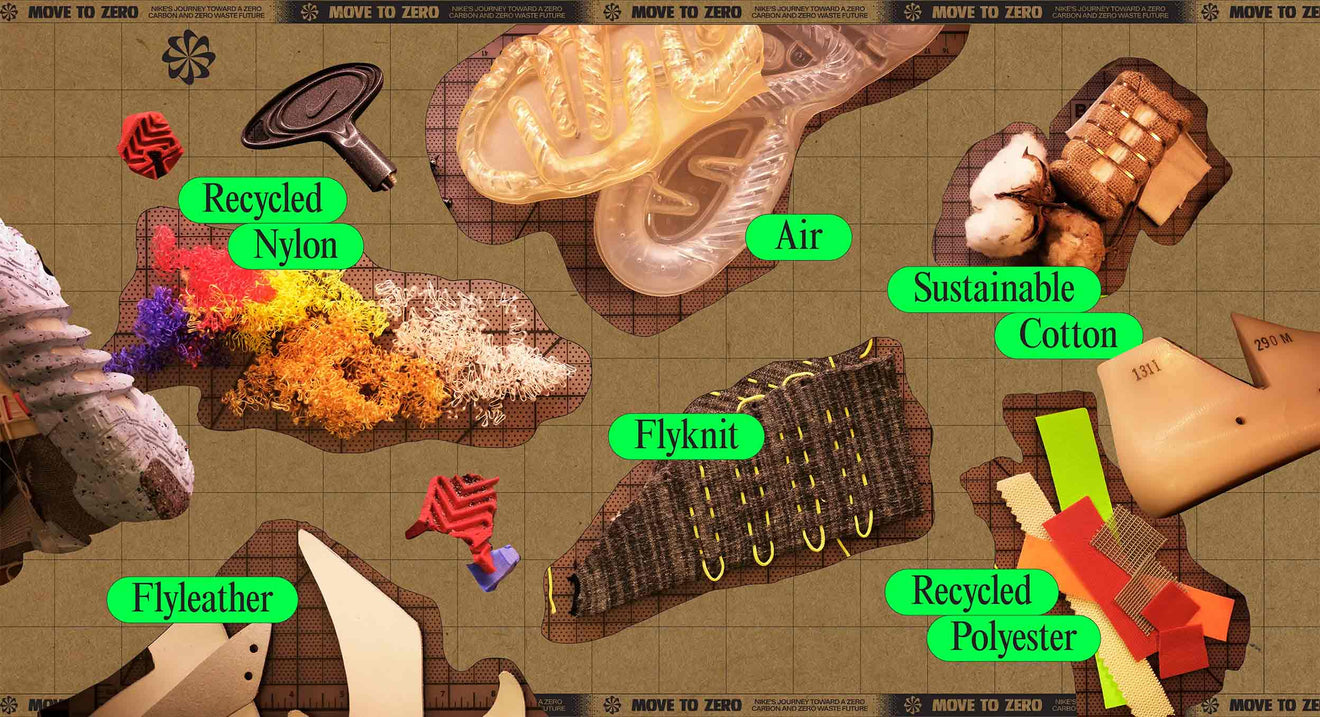 NIKE'S SUSTAINABILITY PROGRESS (So Far)
While the brand has a bold vision for the future, it's worth looking at the steps that have been made so far. The latest impact report sheds some light on how far the brand has come and what we can expect from the future. Nike has made some significant changes so far, however, there is more to come in the future.
Nike aims to source 100% of its products from factories that meet the brand's definition of sustainability. As of 2020, the brand was sourcing 94% of its products from these highlighted facilities.
Similarly, Nike aims to score 80% on product sustainability performance and—as of 2020—scored 60% in this area. The brand also has a target of a 10% reduction in the average product carbon footprint. Currently, this statistic stands at 7.33%, just below the ideal goal.
By 2025, Nike aims to use 100% renewable energy across all its owned facilities. In 2020, the company was only using 48% renewable energy in these locations. Plus, the company wants to reduce the use of energy in key operations by 25%. This stat currently stands at 5.62%.
Nike's use of sustainable materials for its clothing products was up to 59% in 2020 (from 19% in 2015), showing consistent year-on-year increases in this area. It is clear that the officials have dedicated themselves to making sure that sustainable materials are at the forefront of their practices.
Similarly, the use of more sustainably sourced cotton was up to 100% in 2020, showing an increase of 14% on the previous year. Good news.
However, when we look at the sustainable materials used in Nike shoes, we can see that there has been little change in recent years. In 2020, only 29% of materials in these products were sustainable. That is a 1% decrease on the previous year and a 3% decrease on the year before that.
Rather than moving forwards, it looks as though the brand is slowly slipping backwards when it comes to this important goal. Further innovation is needed in the use of sustainable materials in Nike footwear.
SUSTAINABLE NIKE SHOES
As we have already covered, Nike has seen relatively slow progress when it comes to the sustainability of its shoes. However, it's worth noting that manufacturing trainers is a highly complex process, which means that creating sustainable products can be challenging.
While the brand is far from perfect here, it has sparked two important initiatives. Here's what you need to know about the future of sustainable Nike shoes:
New Nike Air Zoom SuperRep 2 Design
Nike has released a brand new circuit training shoe with 20% recycled material by weight. The goal of these trainers is to ' reduce ecological footprint without sacrificing performance or durability'. The Zoom Air bags in these performance-first trainers come in at a substantial 70% recycled TPU too.
In April 2021, Nike announced that it would be using new design principles to make its shoe products more sustainable. This included the release of one of the brand's most sustainable trainers to date—the Air VaporMax 2021 made of 40% recycled content by weight.
The initiative also included the launch of the Nike Crater Impact, boasting 25% recycled materials by weight. Additionally, there was the Air Zoom SuperRep 2 Next Nature and the Nike Victory G Lite, both of which use 20% recycled materials.
THE TAKEAWAY!
Becoming a sustainable brand doesn't happen overnight. Nevertheless, it's clear that Nike is serious about this mission. While there are plenty of improvements that need to be made here (particularly in the shoe department), it's clear that the progress is steady. Here's to a brighter, more sustainable sportswear future.