Words by Isobel Coughlan

Choosing new activewear is exciting. Let's be honest; finding cute and comfortable workout clothes is a fun part of getting fit, especially when there's an abundance of fashion-forward and sustainable brands. Gotta get those Instagram gym selfies in somehow!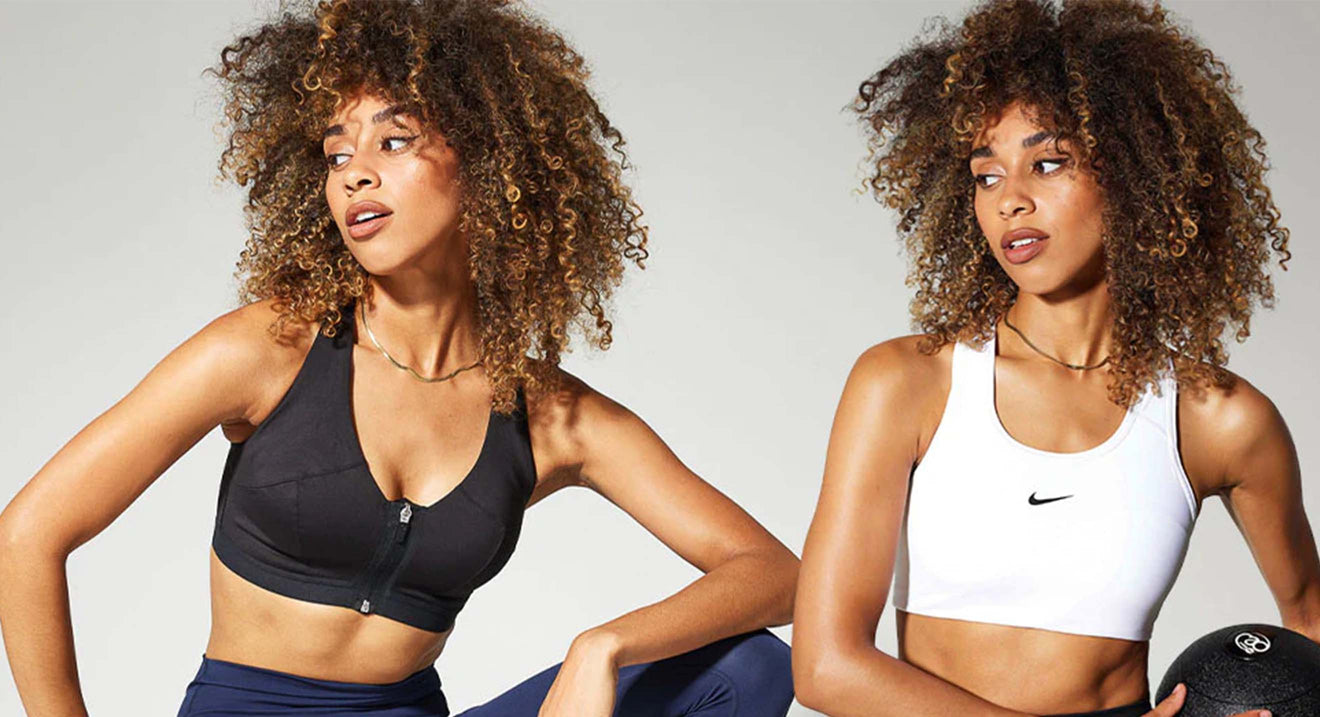 It's easy to choose style over fit; we've all been guilty of this. However, fit and comfort should be at the top of your list when sports bra shopping. Yes, you might look great - but if your breasts aren't comfortable, you won't want to work out. And this is no good!
When choosing sports bras, you have two main options for high impact - the encapsulation sports bra and the compression sports bra. Unsure what these terms mean? Don't worry! In this article, we're investigating both types of sports bras to help you find the best encapsulation sports bra or compressive sports bra for your body.
Ready to improve your comfort during workouts? Keep reading to learn more.
What is a Compression Sports Bra?
A compression sports bra is here to hold your breasts still. As you might guess from the name, this bra compresses your breasts close to your body for less movement while working out.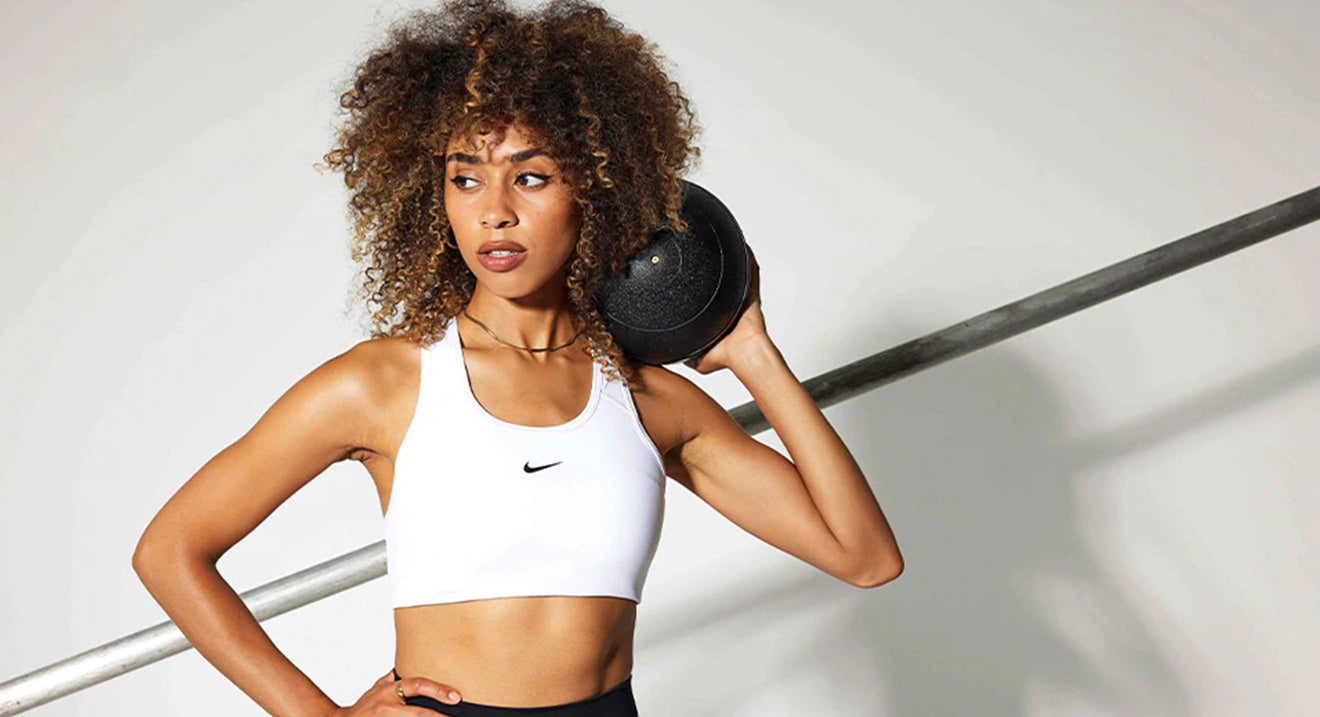 Compressive sports bras are usually recommended for women with smaller to medium busts. This is because most compression designs don't provide cup support, which can be uncomfortable for larger bust sizes. However, compression sports bras can be a good option for larger busts during low-impact workouts - such as yoga.
Additionally, many women complain that compressive sports bras leave them with a 'uni-boob' look. While this won't bother all ladies, it's worth noting while shopping. Trying sports bras before purchasing them is recommended.

What is an Encapsulation Sports Bra?
Like typical underwear bras, an encapsulated sports bra is designed with separate cups. It's also common for these structured sports bras to come with adjustable bands, straps, and underwire details.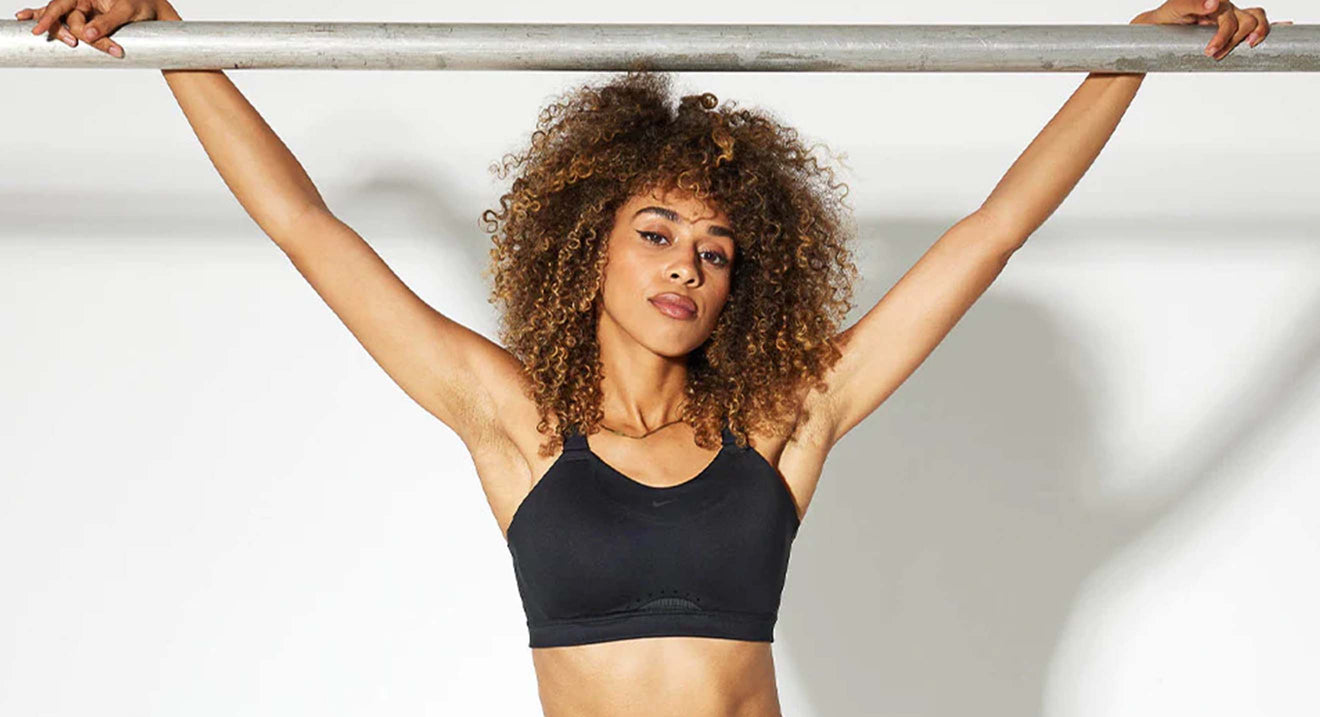 Unlike compression bras, encapsulation sports bras provide extra support and are favoured by those with full busts. These sports bras are better suited to high-impact workouts, running, dancing, or any activities which require more movement. A well-structured sports bra protects your breasts without squeezing them into your body.
So, if you're looking for a high-impact sports bra that looks great and provides a comfortable fit, a high-impact encapsulation sports bra might be the option for you.
> SHOP THE BEST OF THE BEST:
Top 5 Compression Sports Bras
Is it time for you to invest in a compression sports bra? Whether you require smaller bust support or a low-impact option, these are the best options available right now.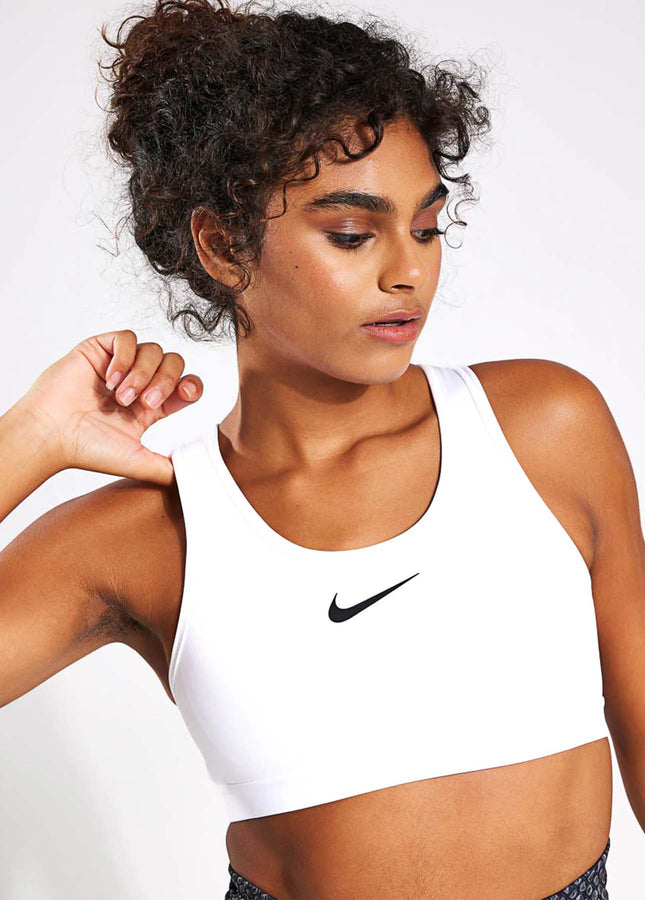 The Nike Dri-FIT Swoosh High Support Sports Bra is a popular compression sports bra with a minimalist style. These days, activewear comes in all shapes and sizes, but this sports bra focuses on a simple aesthetic and sleek details.
This sports bra is available in white and black and has a tight compression fit, a racerback style, and an adjustable bottom band, ensuring a secure feel during your most intense activity. Plus, this bra is designed with Nike's signature Dri-FIT technology. Keeping cool and dry while working out has never been easier with this compression sports bra.
Key Features:
Dri-FIT Technology
Classic Style
Racerback Fit
Adjustable Bottom Band
The Summary
The Nike Dri-Fit Swoosh High Support Sports Bra provides a classic look that matches any sportswear collection. Though it has a simple shape, it offers medium support to keep you comfortable in cardio class, and there are multiple colours to choose from. This is a great option if you're buying your first sports bra or want a trusty compression bra.
Note that the bra is designed to provide a tight, body-hugging fit. This keeps you supported.
> Browse More Nike Sports Bras Here
Sweaty Betty's Power range is a bestseller thanks to smart fabrics, functional construction, and attractive design. So, if you want a sports bra you can trust, consider the Sweaty Betty Power Sports Bra.

This top design offers infinity seamlines that give a flawless fit, a wide scoop neck, and a looped back to keep you comfortable while you smash your workout goals. The wide back also helps to distribute pressure from your chest, allowing you a better range of movement and no aches. Divine.

To top it all off, the Power Sports Bra also has a 4-way stretch, sweat-wicking technology, and removable padding. You can wear this bra however feels best to you!
Key Features:
Padded Straps
Contour Infinity Seamlines
Removable Pads
4-Way Stretch
The Summary
The Sweaty Betty Power Sports Bra is best for those looking for a comfortable, medium-support garment. Perfect for low-intensity workouts and jogging, but not ideal if you want to tackle HIIT classes and have a fuller bust. Size down for a snug fit and extra support.
> Browse More Sweaty Betty Sports Bras Here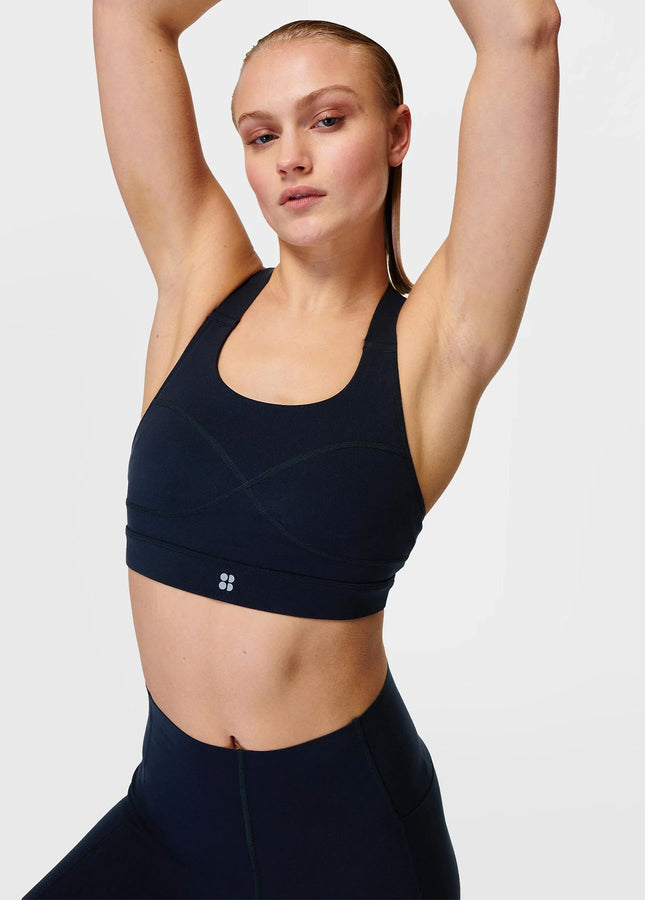 Racerback designs are popular for compression sports bras. But are there any alternative designs? Introducing the YMO Spark Cross Strap Bra. This modern compressive sports bra is designed with support and fashion in mind.
Unlike standard compressive bras, this option combines delicate strap details and mid-support. Available in three colour options, this bra is here to add some style to your workout wardrobe. Also, YMO puts sustainability first with 70% recycled materials. This compressive sports bra is good for you and the planet!
Key Features:
Stylish Cross-Strap Design
High Coverage
Sustainable Fabrics
Available In Four Colours
The Summary
The YMO Spark Cross Strap Bra is ideal for anyone who wants a supportive yet style-conscious compression bra. The bra offers a tight fit, but you can size it down for an extra-snug feel. Note that this offers medium support, so it's suited for low-impact exercise, yoga, and jogging, but you might need a more robust design for HIIT workouts and strenuous runs.
> Browse More YMO Sports Bras Here
Don't scroll any further if you're looking for a full-coverage compression sports bra. The Girlfriend Collective Dylan Bra provides more coverage than your typical sports bra, giving a top-like appearance.
Alongside more coverage, this compressive sports bra offers a built-in support band and four-way stretch, and it's finished with a double-lined technique for your comfort. You can pair it with a loose workout tee or wear it alone with leggings.

The Dylan Bra is available in six colours, including pops of pastel and minimal shades. This is great news for any fashionistas who prefer their workout wear in bright colours rather than neutrals.
Key Features:
Built-In Support Band
Racerback Design
Full-Coverage
Sweat Wicking Fabric
The Summary
The Girlfriend Collective Dylan Bra is a great option for extra coverage and compression for medium-impact workouts. Good compression bras offer tight support, and the Dylan Bra does just that. Because of this, your standard size might feel tight at first. However, it'll mould to your body over time.
Consider sizing up if you're in between sizes or want a looser fit. Sizing down for this bra will likely be too tight and uncomfortable.
> Browse More Girlfriend Collective Sports Bras Here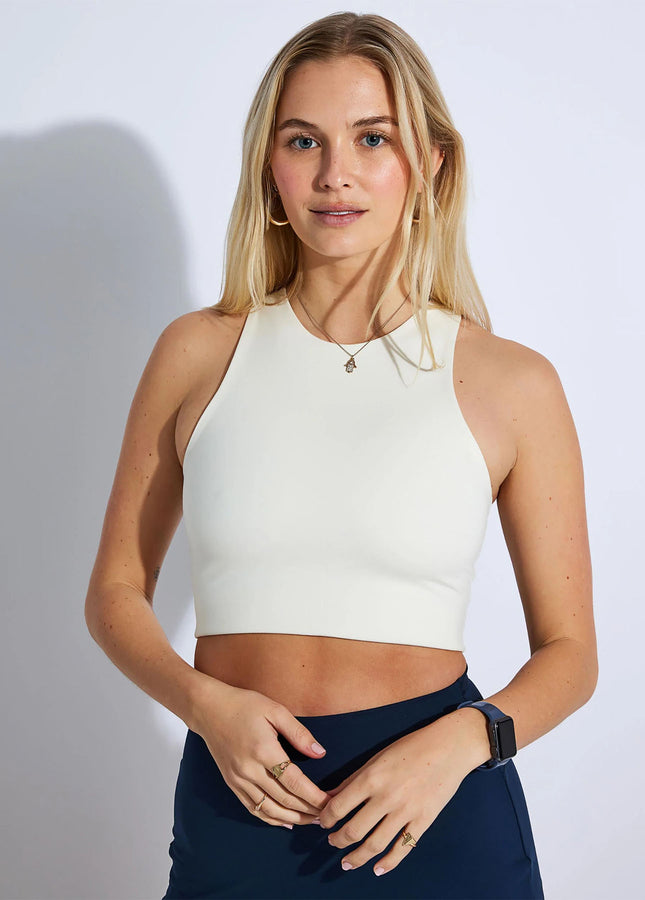 If you're interested in a compression sports bra that supports your chest while looking stylish, the Born Nara Sports Bra could be your match.

This sophisticated sports bra mixes an open back with an overall innovative design, allowing you to run without discomfort. But that's not the only reason we love this pick. The Born Nara Sports Bra open back also maximises breathability and offers greater freedom of movement, so you won't have to worry about feeling stiff or sweaty.

The features don't stop there! The bra is also quick-drying, anti-bacterial, and offers medium-high support. Everything you need to navigate workouts with confidence.
Key Features:
Fashion-Forward Open Back Design
Quick Drying Fabric
Medium-High Compression Support
Anti-Bacterial Fabric
The Summary
The Born Nara Sports Bra is an excellent example of a compression bra that ticks all the boxes. It offers high-medium support, keeps you cool, and can be paired with non-sportswear for a street-style look. However, if you're a fan of bright colours, you might want to consider other options, as Born only offers Black and Moss.
> Browse More BORN Sports Bras Here
Top 5 Encapsulation Sports Bras
Quit Googling 'sports bra high impact'. We've curated a selection of the best encapsulation sports bras for support and intense workouts. See our top picks below!
1. Sweaty Betty Ultra Sports Bra
Sweaty Betty are UK sportswear royalty, and it's no surprise that their Ultra Running Bra has made our list.

As an encapsulation bra, the Ultra Running Bra comes in a range of inclusive cup and back sizes, from 32A to 38E. It's also designed with engineered mesh panels and compression technology to keep you supported at all times. There are even padded shoulder straps for extra comfort and to distribute any extra pressure. This is a high-support bra through and through.

Alongside precise design, the Ultra Sports Bra uses quick-drying fabric and moisture-wicking technology to ensure the bra is as lightweight and breathable as possible. No overheating while trying to beat your PB here.
Key Features:
Reliable High-Support
Breathable Mesh Panels
Non-Padded Cups
Padded Shoulder Straps
The Summary
The Sweaty Betty Ultra Sports Bra is a great option if you're looking for an encapsulation bra that does it all Perfect for high-support activities, such as running and HIIT workouts. For the best fit, select your normal bra size.
> Browse More Sweaty Betty Sports Bras Here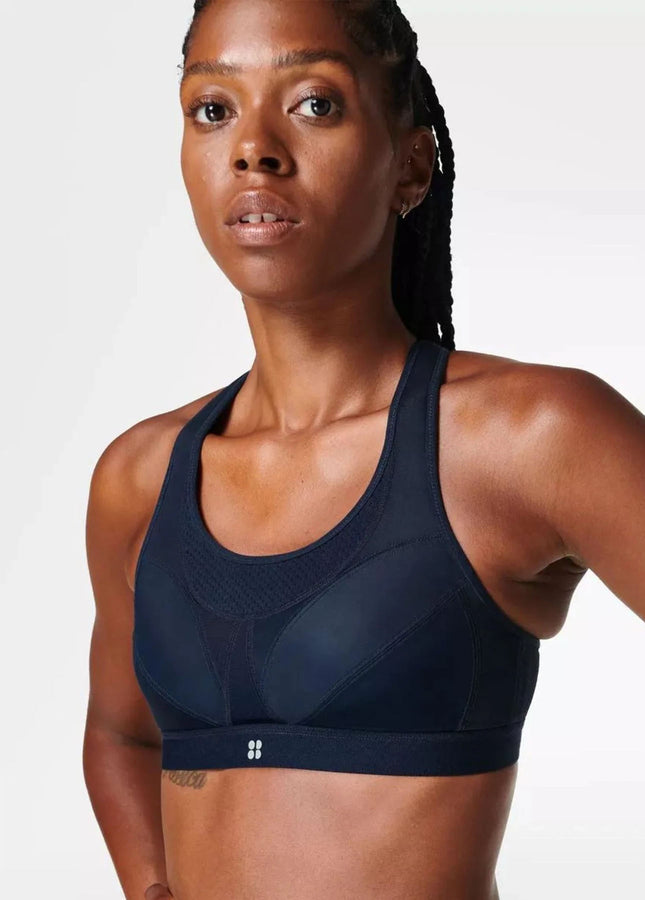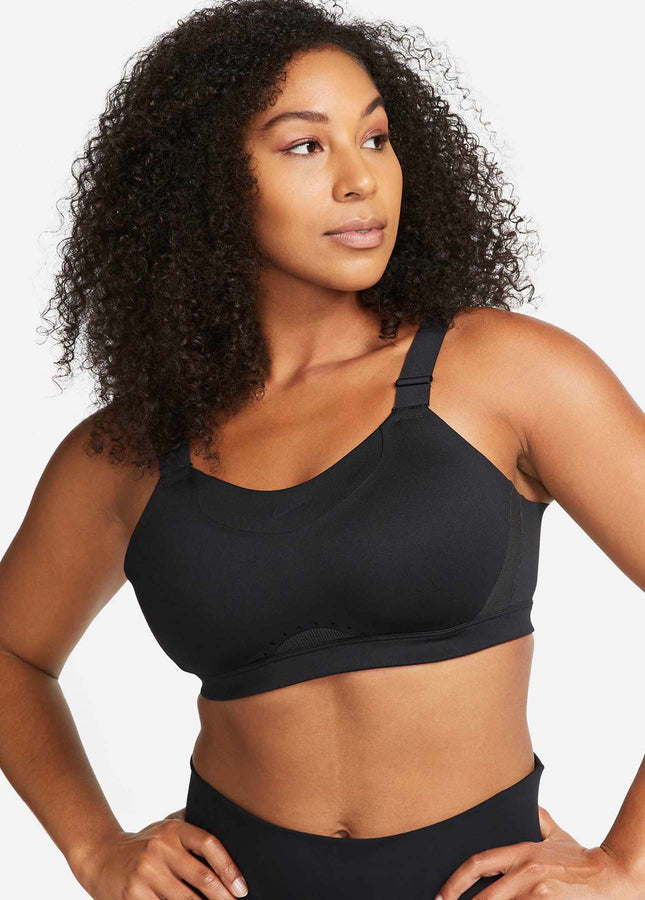 Nike's Dri-FIT technology always impresses, but the Nike Dri-FIT Alpha Bra goes above and beyond. This encapsulated sports bra puts support first, ensuring extra comfort while working out.
Unlike low-support options, this innovative sports bra uses foam moulded cups to compress and support your breasts. So, if you're searching for sports bras that provide padding, this one will be your best friend.

The bra also offers adjustable straps and a back clasp for extra assistance. No more fumbling about while trying to fasten your encapsulation sports bra!
Key Features:
Dri-FIT Technology
Adjustable Straps
Easy-To-Fasten Back Clasp
Breathable Design
The Summary
Consider the Nike Dri-Fit Alpha Bra if you want a padded encapsulation bra for more intense workouts. Many bras are unpadded these days, so this is a fabulous pick for those who want extra coverage via padding. The bra provides a tight feel for support, but you can size down if you want a looser feel. Note that sizing down may reduce the bra's effectiveness.
> Browse More Nike Sports Bras Here
Looking for an encapsulation sports bra with extra style? Meet the Freedom To Move High Impact Sports Bra. This sports bra combines delicate fabric designs with innovative support for an expert workout bra. This is another fantastic option if you're interested in technical and aesthetic design.

This sports bra has padded cups, high support, a hook-and-eye fastening, and moisture-wicking fabric. Everything you need to feel comfortable while embracing those more strenuous workouts. Just note that this isn't a wired sports bra!
Finally, the Goodmove Freedom To Move High Impact Sports Bra also includes Cool Comfort technology. This smart fabric draws moisture away from your skin, keeping your body temperature cool and you dry even in sweaty workouts.
Key Features:
Non-Wired Encapsulation Bra
Cool Comfort Technology
Padded Cups
Moisture Wicking Fabric
The Summary
You'll love the Goodmove Freedom To Move High Impact Sports Bra if you're looking for an encapsulation bra minus the extra wires. It's also a great option if you're exclusively searching for bras with padded cups, as you can't remove the padding from this model. Excellent for those cold winter runs!
> Browse More Goodmove Sports Bras Here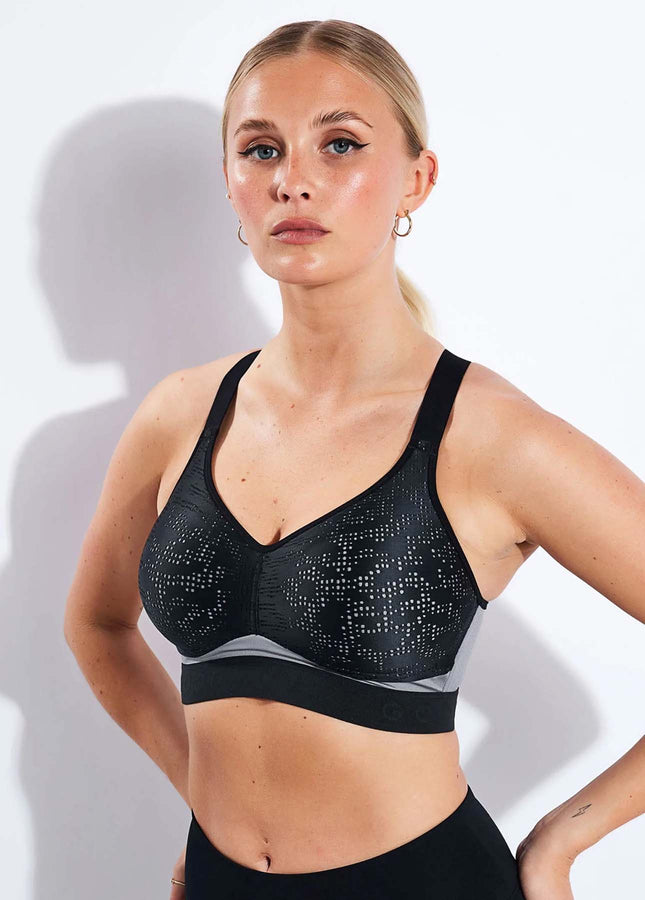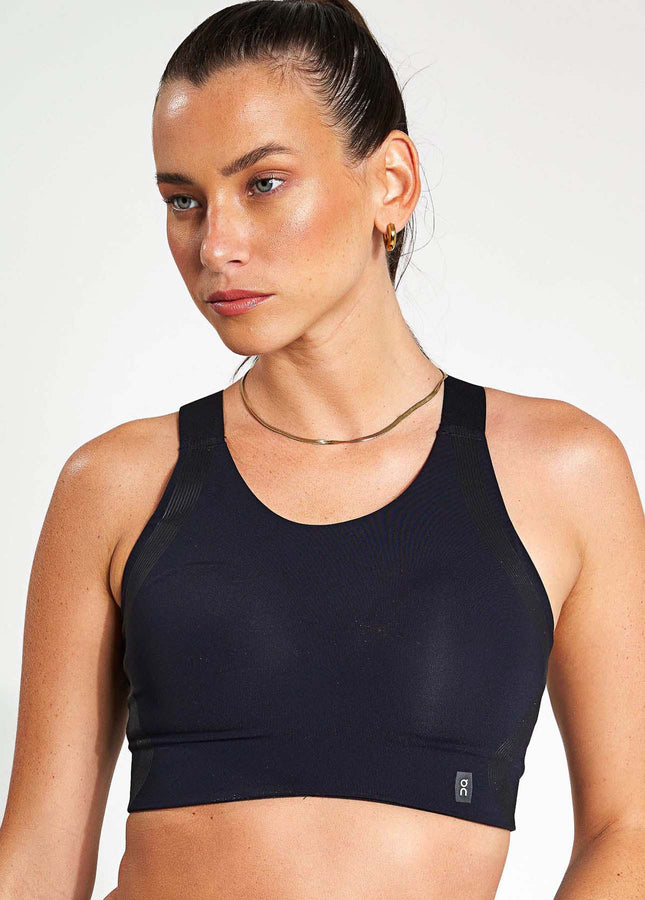 If you're frustrated with low-impact sports bras ruining your running, meet the On Running Performance Bra. Engineered for success and minimal movement, this encapsulation sports bra is for serious workouts.
This bra provides an alternative full-coverage look with a high neckline and subtle back cutouts. Wearers also benefit from light padding and sweat-wicking fabrics, perfect for sleek style and comfortable performance.
This could be your option if you're unsure about the traditional bra-look of encapsulated sports bras. At first glance, it looks more like a compression sports bra, as it lacks defined cups. However, it doesn't lack cup support and can take on high-impact exercise.
Key Features:
Sleek Back Design
Cooling Mesh Panels
Light Padding
Sweat-Wicking Fabric
The Summary
The On Running Performance is all about expert support. Fabulous if you're looking for a serious sports bra that'll last for years without losing its strength. This bra fits true to size and has an athletic fit. You won't need to size up and down to get the support you need.
> Browse More ON Running Sports Bras Here
Improve your workouts with the Under Armour Infinity High Sports Bra. This high impact sports bra provides fitted cups and moulded padding to ensure your check is comfortable and supported.
Mesh panels and branded straps are incorporated into the bra design for a unique look. This popular encapsulated sports bra also provides sweat-wicking thanks to HeatGear fabric. If you want to stay cool while getting sweaty, this bra is here to help.

The Under Armour encapsulation sports bra also features a PU moulding technique, which keeps your chest extra supported while jumping or running. This can leave you with less pain and strategic support, especially if you have a larger cup size.
Key Features:
Attractive Branded Straps
HeatGear Fabric
Moulded Padding
Strategic Breast Support
The Summary
If smart fabrics are your thing, the Under Armour Infinity High Sports Bra could be best for your workouts. This bra is made from specialised HeatGear fabric and includes expert encapsulation shaping to ensure you don't feel any extra pressure while on the move. Opt for your usual size. However, you can size up if you want a loose fit, but note that this might reduce the effectiveness of the encapsulated sports bra.
> Browse More Under Armour Sports Bras Here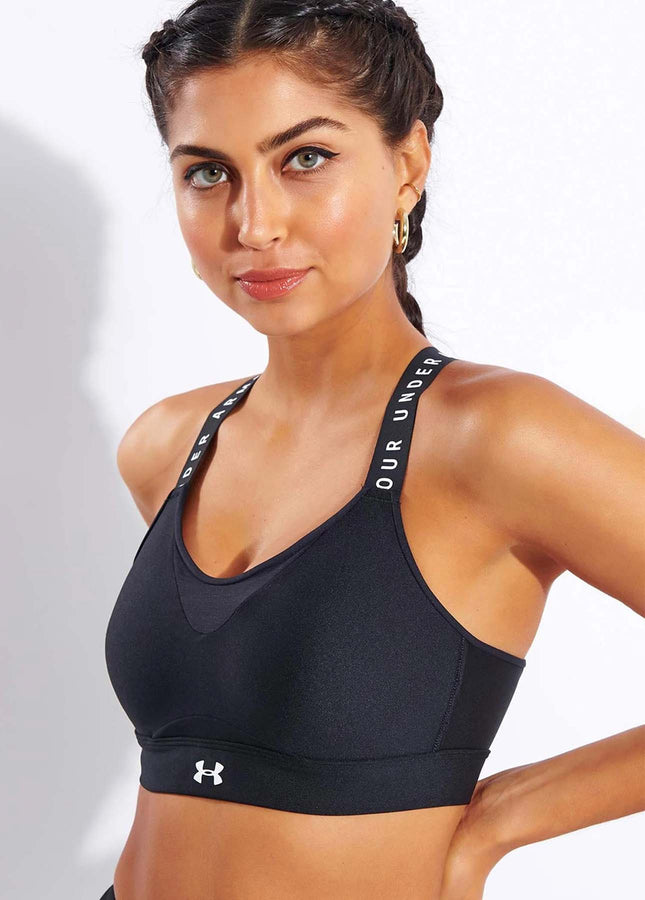 The Takeaway!
Which sports bra takes your fancy? Are you on team compression sports bra? Or do you prefer the support of an encapsulation sports bra? Choosing the right fit for you is essential. Never sacrifice your comfort again with these on-trend yet structured sports bra options.