On the back of the announcement of a new $5 million investment in their business, I caught up with Varley's husband and wife founder team Lara and Ben Mead to hear more about their ambitious plans. The power couple tell us how they've managed to create a multi-million pound brand together in their thirties, whilst also somehow finding time to have two children, move to LA and then back to London again.
Whilst Lara and Ben have recently returned to London, and the entire design team is also UK based, a lot of the team are still based in LA, ensuring the influence of both cities is still visible in the brand: Blending cosmopolitan London style with a Californian ease.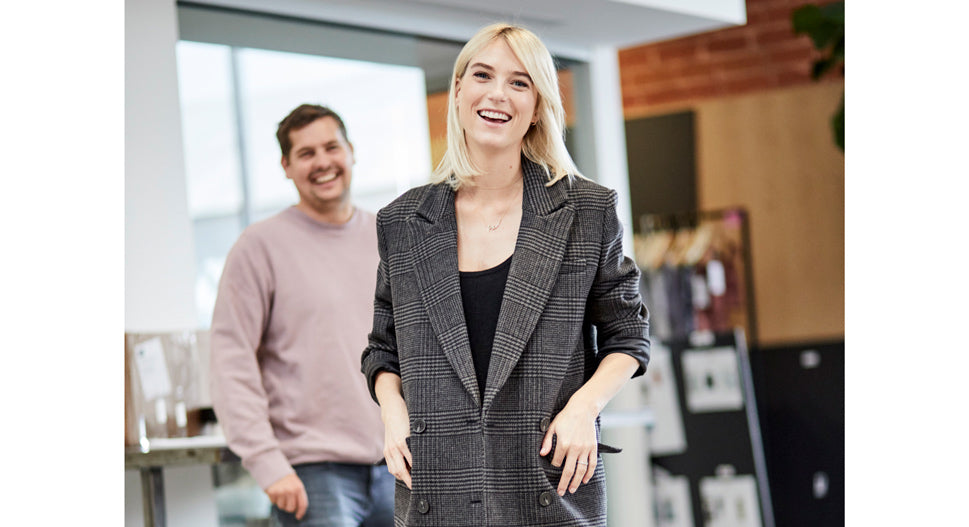 At The Sports Edit we've loved Varley since we first started working together in late 2016, and its collections keep getting stronger. The brand combines extraordinary attention to detail with an elevated yet understated aesthetic.
In an increasingly crowded activewear market, Varley stands out in the way it fuses fashion and function, designing highly versatile pieces. These work as stylish contemporary clothing, with their signature prints, unique luxurious fabrics and elevated details, but also with support, coverage and performance that stand up to the toughest workouts.
With the new investors behind them, it really does have the potential to be a world-leading fashion brand.
The global activewear market is now worth approximately $70 billion annually, and the growth has attracted a plethora of players vying for market share. Yet very few have the potential to achieve significant scale and compete with the industry giants like Lululemon, which has grown from $270 million to $3.3 billion of sales in the past decade. Also, whilst the US has its fair share of rapidly scaling challenger brands such as Alo Yoga and Outdoor Voices, none has yet emerged from the UK or Europe (Sweaty Betty has been around since 1998 so doesn't really count as a challenger brand).
Varley is out to change that. Having hit revenues of $8m this year, they are now set to accelerate growth with a $5m new investment from Ron Dennis, the founder and former CEO of McLaren Technology Group, including the F1 team, and from Anders Holch Povlsen, one of Europe's few fashion billionaires, who owns Bestseller, as well as a 27% stake in ASOS and 10% in Zalando. If you're an ambitious activewear brand set on taking things to the next level, then it is hard to think of two better investors to support that journey. They are also promising to be pretty active in their support, with Ron Dennis joining Varley's Board.
Lara and Ben are over the moon about how investors of this calibre validates all their work over the last few years;
"We are delighted with this investment and the faith shown in us by Ron and Anders. Their support recognises all the hard work we have put in to create a brand that supports modern women and their active lifestyles. This investment will enable us to elevate Varley to the next level and ensure we can reach a much broader customer base."
The investment will be used to not only expand distribution, but also to invest in broadening the range, into areas such a travel and ski. Varley initially made its name through through statement yoga leggings and bra sets, often in elevated prints such as snakeskin. Whilst leggings are still 40% of the business, increasingly the success and excitement from customers is coming from their unique seasonal pieces, such as the Ottoman down jackets, and sherpa tops.
This fits with Lara's ethos to create pieces that support a woman's hectic, multi-tasking modern lifestyle, with pieces they can go back to again and again, and that work for all sorts of contexts, transitioning from her life before, at, and after the gym.
"Women want to be comfortable. They don't want to get changed numerous times throughout the day. It's almost like a uniform. They don't have to overthink it."
With the combination of new investment, its uncompromising approach to design and quality, and widening range, we see Varley transforming into a full-scale contemporary lifestyle brand. Watch this space.
Get to know Varley co-founder Lara Mead
Your hometown?
Born and bred in the Lake District
Favourite way to sweat?
Boxing
How do you recover after a workout?
A nice hot shower and lots of water
What's the last thing you Googled?
LA office space!!! We have out grown our office space in LA and looking for new premises. Very boring, I know.
What's your favourite way to relax?
I'm a sucker for a massage. I could have one every day of the week.
How did you get into designing activewear and founding a company?
Myself and my husband Ben started Varley together. We wanted to create a contemporary lifestyle brand for the active modern women, and Varley was born on one of our many trips to California.
If Varley were a person, what would their typical weekend plans include?
A Pilates session followed by brunch with family and friends down on Malibu Pier. After brunch, a long walk along the beach. The evening would then be a night on the town with her husband or boyfriend, cocktails at Soho House West Hollywood or the Polo Lounge in Beverly Hills, followed by supper at an LA eatery.
Sunday would be spent hiking, surfing, biking any outdoor activity, followed by GTA's takeout on Abbot Kinney, and then home for a lazy movie night.